Saturday, July 22, 2006
A few folks have asked to see what jewelry I've been working on lately so I decided to inflict them on everyone rather than try to remember who all asked so I can email them individually.
So here you go....
These are all chainmail - made from lots of little rings that I weave together. I buy the rings instead of making my own like some folks do.
This is a choker made from enameled copper. It's not really as dark a pink as it looks.
This is an enameled copper necklace and earring set. No findings yet.
This is the same set (basically) in sterling.
This is a sterling choker.

And this is a sterling set as well. The earrings for this set also match the choker above.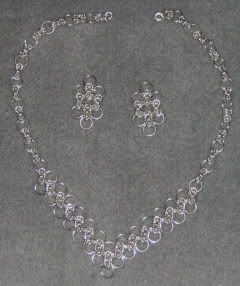 I do make other types of jewelry as well and might even get around to taking pictures of those as well.