Thursday, August 16, 2007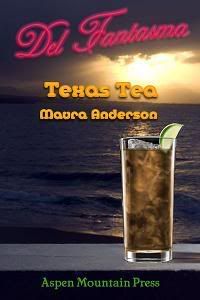 Texas Tea is now out! You can buy it at
Aspen Mountain Press
. To whet your appetite, here is my last excerpt but be sure to read the whole post, there are contests at the bottom of the post!
Let me know what you think of my first fiction offering!
---------------------------------------------------------------
Excerpt:
And he thought she was both pretty and smart. A man who accepted her for what she was. At least for most of what she was. He still didn't know her big secret.
He won't care, you know. He can accept all of you.
The tingling sensation came and went almost instantly, the ghost apparently only interested in delivering its message as quickly as possible.
"Thanks." She said in a random direction since she had no idea where the ghost had spoken from.
She glanced at her watch to find she still had a few minutes left before Matt was due to arrive.
She needed to make sure she was ready to really dive into her work today. After removing her wad of clothing from the handle of the camera bag, she opened the bag and started her equipment check. She quickly changed the batteries in all her cameras, including the digital SLR that would be her primary tool today. The batteries she removed went into the chargers she'd stationed on the small kitchen counter and the previously charged ones were moved to the bag as spares. Several spare memory cards were tucked inside the bag as well.
Thankfully, the keys to the B&B cottage had been sitting on top of the camera case, no doubt due to Matt as well. She needed them to lock the deadbolt as she left, so she laid them on top of the zipped up bag again. Matt's thoughtfulness had saved her from the normal process of trying to figure out where she'd last put that set of keys, but she still had to find the keys to her rental car. She started with the outside pockets of the camera bag and was happy to discover them in the first pocket she searched. She moved them to one of the pockets of her cargo pants.
Money. She might need money. She certainly needed her driver's license. Just as she retrieved her wallet from the pair of pants she'd been wearing yesterday, a knock sounded at the cottage's front door.
Darting out of the bedroom and toward the front door, she couldn't wait to see Matt again. Only when her hand was already on the doorknob did she have a brief moment of trepidation. How would he behave today? Would he treat her differently? The man had seen her naked. And the commented on her choice in underwear. Worse yet, he had seen the fact she was far from tidy.
She quelled her fears as best she could. It's not like he'd run or said anything critical, after all. She opened the door to see Matt's tall body, more sexy than ever in his pressed and formal Park Ranger uniform.
His lips curved in a slow, hot smile.
"Good morning, Lara." He shocked her by opening his arms and pulling her immediately into them. Like an animal pouncing, he covered her open mouth with his own. His lips played over hers, gently teasing her skin with the texture of his own warm lips. Almost as quickly as the kiss started, it ended and Matt just held her close to him.
Lara sighed, surrendering to the sense of comfort and leaned her body into his. She was surprisingly content just resting in the circle of his arms. Wanting to be even closer, she wrapped her own arms around his slender waist and hugged him to her. The sense of peace and acceptance quickly changed to arousal when she felt what she did to the self-possessed man. His uniform pants didn't conform to his body as well as his jeans did and she could feel his cock grow thicker and harder against her.
A foreign sense of power rippled through her. Plain, weird Lara had one of the most attractive men she'd ever met hard and wanting sex with her. With her.
She rocked her hips gently, pressing herself against Matt. The combination of the ridge of his cock against her mound and the tug of her skimpy thong against her clit sent her arousal spiraling into a veritable storm.
Matt made an animalistic sound and reached around to ease her away from his body. His face was tormented and his features appeared somehow sharper, more feral. Even the teeth biting his lower lip seemed sharper.
The sensation she'd noticed the first time she met him, the hint of the spirit world, became stronger and more intense. She reveled in it and the heady power in having the sexy man at her mercy.
She finally allowed Matt to disengage her arms from his waist and move her an arm's length away from him. When her body lost contact with his, she felt a fundamental sense of loneliness, almost emptiness. She tried to remind herself that he wasn't necessary to her existence, no matter what her body seemed to think at that particular moment.
"We need to get breakfast now, if we want any." Matt smiled a tight smile down at her. She could swear his teeth were a little long, the tips of his canines just showing when he talked. Why hadn't she noticed that yesterday? It was odd but very sexy in an untamed way.
----------------------------------------------------------------------------
Contests!
I'm having my very first contests to celebrate my very first book -- Two contests, no less! I probably should mention that one of my hobbies is jewelry making :) Now two readers will be the beneficiaries of my skills.
The first contest is for my blog readers and the prize is a lovely bracelet in ocean colors. There's a larger picture on my website's
Contest Page
. It's made of enameled copper rings in ocean and peacock blue with ocean glass rings interspersed. The silver clasp is a magnetic clasp that makes it very easy to wear.
To win this bracelet, just leave a comment in response to this post by midnight on Sunday, August 20th. I'll draw a winner on Monday and announce the winner on this blog as well, so remember to check back to see if you win!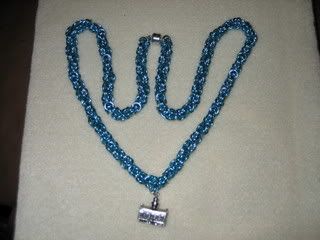 The other contest is for my Newsletter subscribers. I have started a Newsletter that will come out once a month, on the 15th of each month. It includes excerpts, news, author trivia and starting next month will include a chapter each month of a free story I'm writing just for the Newsletter.
Entries for this contest will be accepted from today through September 15th but in order to enter, you must subscribe to the newsletter. I won't use your email address for anything else, so don't worry. You can subscribe to the Newsletter using the Feedblitz subscription box on the right-hand side of my website's
Newsletter Page
. The winner will be announced in the September Newsletter.
This necklace is also made of enameled copper rings in ocean blue with a magnetic clasp but it has a sterling silver charm of the Old Point Loma Lighthouse on it. I almost kept this one for myself! Again, there's a larger picture on my website's
Contest Page
.